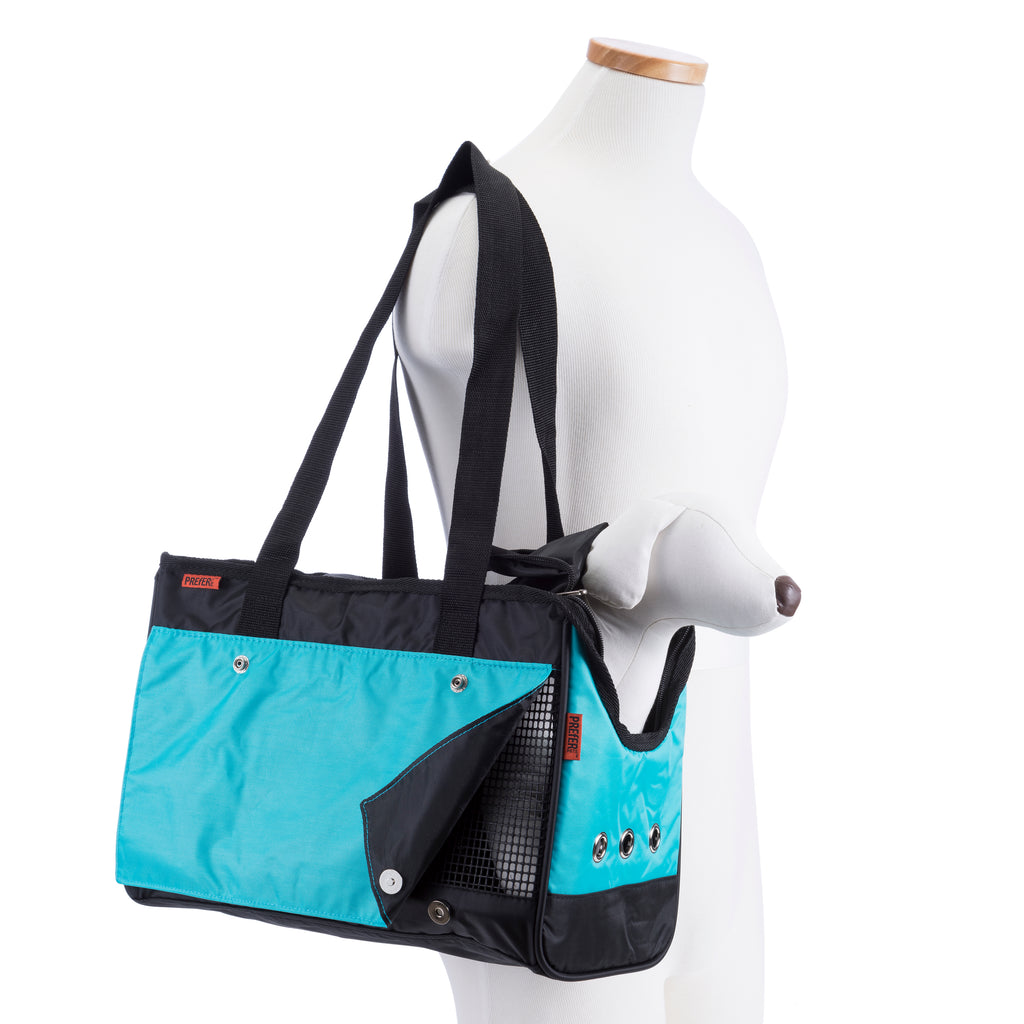 949 Urban Tote - Pet Carrier
949 Urban Tote
Prefer Pets Urban Tote is the thoughtfully-designed, safe and secure carrier for life on the go with small pets. The top "U-shaped" zippered panel allows for your pet's easy entry and exit. The front and side mesh panels provide ample ventilation, while the side panel grommets add a stylish accent.
Customize this tote to fit your pet's privacy needs using the front panels that roll-up-n-down to close out distractions and reduce your pet's travel anxiety. A large, zippered side pocket conveniently holds treats and waste bags. The faux-fur, machine-washable floor mat keeps the carrier upright from the base and your pet comfortable. For optimal stability in motion, connect your pet's harness to the interior clip.
This tote features water-resistant canvas fabric in three stylish colors and complies with major airlines' in-cabin carry-on regulations. Luggage tag and Pet ID card included.
Features:

Top U shaped zippered entry.
Front mesh ventilation window with Roll Up-n-Down privacy covers for discreet travel.
Two sides with metal grommets.
Removable interior harness hook.
Fully lined interior.
Machine washable interior faux fur base liner.
Made of coated polyester woven canvas exterior.
Large outside zippered pocket for treats and waste bags, etc.
AIRLINE APPROVED! Compliant with major airline's in-cabin carry on regulations.
Dimensions: 15"L x 11"H x 8" D
Shipping & Delivery
Shipping & Returns
We use UPS and USPS to ship our products to our customers.
Depending on item, the product ordered will ship from our warehouse or be shipped by our partnered fulfillment center. Please give us 1-4 business days to prepare your order.
UPS Ground - 1-5 days depending on ship-to location.
Expedited Shipping - 2-3 days delivery depending on ship-to location.

*Shipping and processing time will vary.
*PO BOX addresses & orders to Hawaii or Alaska - your order may be canceled or alternatively shipped and delivered by other methods.
Processing Time
Please allow 1-3 days for us to process your order. Orders are not packed or shipped out on Saturday / Sunday.
Estimated arrival date depends on your location and can take up to 6 days after your order is processed.
At checkout, please select the shipping option that works best for you if item is needed by a specific date or time.
International Orders
International shipping is limited. CONTACT US to inquire for us to ship to your country.
**Note: International buyer must pay all shipping/custom handling charges and fees.**
Shipping for international orders may take 1-8 weeks to arrive at destination after being dispatched to courier.
Warranty Information
LIMITED WARRANTIES
We offer 6-months warranty from date purchased (from our website only), only applicable to manufacturing defects.

Please contact us for futher information if there is an issue with your product at:
info@preferpets.com or call us +1 (800) 922 8198.
Payment Information
ALL SALES ARE FINAL
All sales are final. We do not issue refunds or accept returns unless there is a manufacturing issue that can be proven.

Please contact us for futher information if there is an issue with your product at:
info@preferpets.com or call us +1 (800) 922 8198.